If only Daughter of Smoke & Bone were a movie.

Haven't read or heard of the book yet? Here's a taste: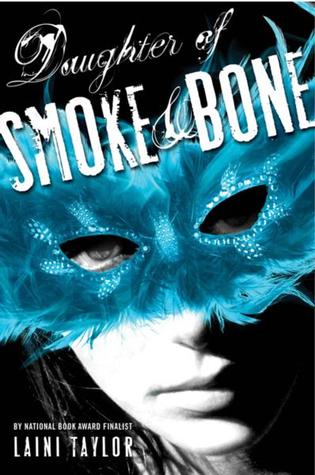 Around the world, black handprints are appearing on doorways, scorched there by winged strangers who have crept through a slit in the sky.

In a dark and dusty shop, a devil's supply of human teeth grows dangerously low.

And in the tangled lanes of Prague, a young art student is about to be caught up in a brutal otherwordly war.

Meet Karou. She fills her sketchbooks with monsters that may or may not be real, she's prone to disappearing on mysterious "errands", she speaks many languages - not all of them human - and her bright blue hair actually grows out of her head that color. Who is she? That is the question that haunts her, and she's about to find out.

When beautiful, haunted Akiva fixes fiery eyes on her in an alley in Marrakesh, the result is blood and starlight, secrets unveiled, and a star-crossed love whose roots drink deep of a violent past. But will Karou live to regret learning the truth about herself?
I only recently got around to reading this book (review pending!), and I'm honestly kicking myself for not getting to it earlier. On paper, Daughter of Smoke & Bone is already so vivid and imaginative that I can't even begin to imagine how amazing it would be on a big screen.
This novel has it all--mystery, suspense, fantasy elements, and a whirlwind romance that may as well be out of this world. The characters are so wonderfully multi-dimensional and the storytelling is phenomenal, and I think all of that would transfer extremely well on film. Casting and setting would both be pivotal to a movie adaptation, but boy, I definitely think the cost would be offset by the fact that it could draw in a diverse audience.
Anyone with me on this one? Feel free to leave your thoughts in the comments! :)