Hey Guys! Today we have Lisa from Turning Pages and she is here today to talk about blogging and life! So here she is!
Lisa a.k.a Turning Pages is my name, and reading and reviewing is my type of game! I'm seventeen, a junior in high school, and spend my days going to school, doing (what seems to be endless) homework, studying for ACT and SAT, which are coming up fast, and spending quality time with my three loves; Josh, my family, and books!
Turning Pages, is turning one at the end of February! I can't believe I've been blogging for almost a year; it's mind blowing! I don't think I've ever done something, and stuck to it for this long! Turning Pages was simply created, to further my love of reading, I didn't even know that this many people were actually blogging too. Here at home, I don't really have any friends that read as much as I do, so I don't really have anyone to talk books with. But ever since I've started Turning Pages, I've meet tons of awesome blogging buddies, authors, publishers, and followers!
I'm so grateful for everything that's happened to me, simply because I do what I love; read books, and write reviews!
Thank you soooo much for having me, I'm really honored to be featured on your blog! I hope you can come and visit Turning Pages sometime, and let me know how you started blogging.
Lisa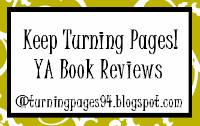 ~Fishy >O